Easy Baking Recipes for Low-Calorie Brownies
Can there ever be a better combination than a brownie topped with vanilla ice cream or a drizzle of hot chocolate syrup? No, right? But it's also true that these are high on calories. However, you can always give a healthy touch to such high-calorie brownies by switching to natural sweeteners. Wondering how? Well, it's the new, easy and quick vegan brownie recipe that you can enjoy without adding those extra calories or cheating on your diet.
Before you start to bake this, here's a little secret about this brownie. You just need 4 ingredients and you are good to go! Yes, you heard that right, few ingredients yet a yummlicious dish. All you need is dates, peanut butter (loads of it), dark cocoa powder, and a little coconut oil. You can always substitute oil with applesauce or peanut butter. Go on to add some walnuts, choco-chips as well as chopped dates. Collect all these items to begin baking this vegan low-calorie brownie.
Since making this brownie will take only 30 minutes, it's best to start by preheating the oven. As your oven gets preheated, you can chop the dates after you have soaked them in warm water for 10 minutes and removed the seeds. You can also use a food processor to chop the dates.
Once this process is done, add hot water to the dates and let it soak until it turns into a pasty texture. Now, to this paste, add peanut butter, coconut oil, and cocoa powder. Just make sure you get the consistency right; it should be sticky and thick. At last, add walnuts and some choco-chips and slide the batter pan directly to the preheated oven for 15 minutes.
As your vegan brownies are ready, don't forget to cool them before your serve. Rich, fudgy, naturally sweetened and super-delicious vegan brownies are just the healthiest treat for your sweet cravings. Also, try making a bunch of these brownies and gift them to your friends and family as well.
We hope these easy baking recipes will help you ace little treats to satisfy the food cravings of your loved ones and you too. So, put on your apron, get your mixers ready, and all the other kitchen tools to bake some amazing lip-smacking recipes today.
which kitchen aid stand mixer is best?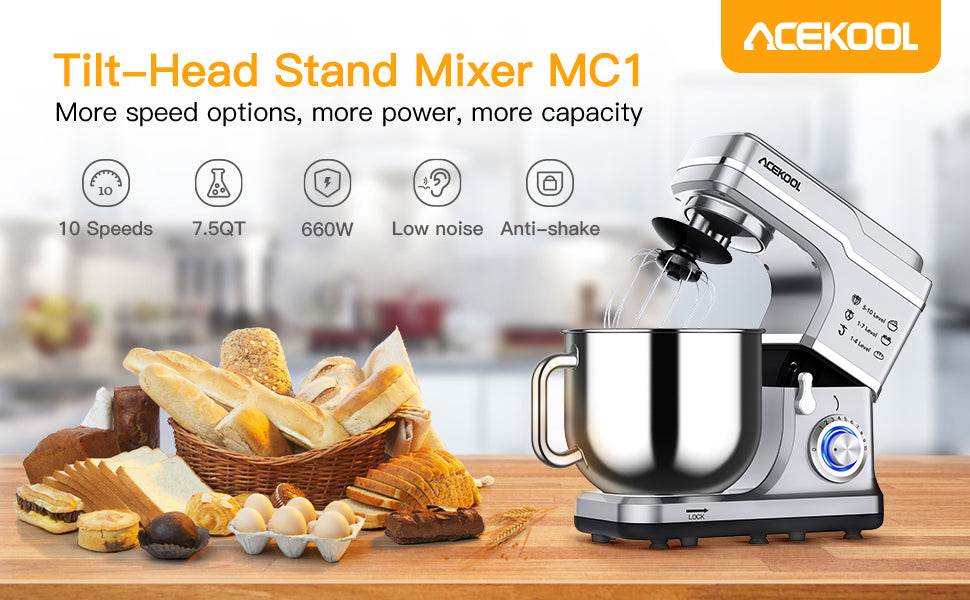 1400W/660W high-performance pure copper motor
7.5Quart/7L larger stainless steel bowl with one handle
Vibration absorption design, no displacement during operation
6 strong suction cups for more steady
Blue LED light as a power indicator