Easy Baking Recipes for Bake A Coffee-Time Snack - Cinnamon Sugar Swirl Coffee Cake

Coffee cakes are quite a winner when it comes to snacks or sweet cravings. Pro-bakers have often suggested that novice bakers must try this cake out. Crispy on the crust but soft, delicious inside with a ribbon of cinnamon sugar in the middle makes for that perfect tea time break after a busy day.
Gather all the ingredients - grounded cinnamon, granulated sugar, melted butter, eggs, vanilla extract, sour cream, flour, baking soda, and a pinch of salt. Once you have all, begin the process of the mixing.
Kick start the process by greasing a Bundt Pan with oil and then coat it with a mixture of cinnamon and sugar. Next, you need to mix butter and sugar in a bowl until it gets all creamy. And then add eggs, vanilla extract, and sour cream to the butter-sugar mix. Once all the wet ingredients are mixed thoroughly, you can start adding flour along with baking powder and salt. Mix and mix, till you get a perfect consistency.
Once done, it's time to pour the batter into the Bundt pan but it should be done in two parts. This means, first pour some of the batter in the pan, then add a layering of cinnamon sugar and then add the remaining batter at last. Shift the pan to the oven and bake for 40-45 minutes. And, you're done; the coffee cake is ready to be served!
Try this cake today and enjoy it with a cup of coffee when you relax during the evenings.
which kitchen aid stand mixer is best?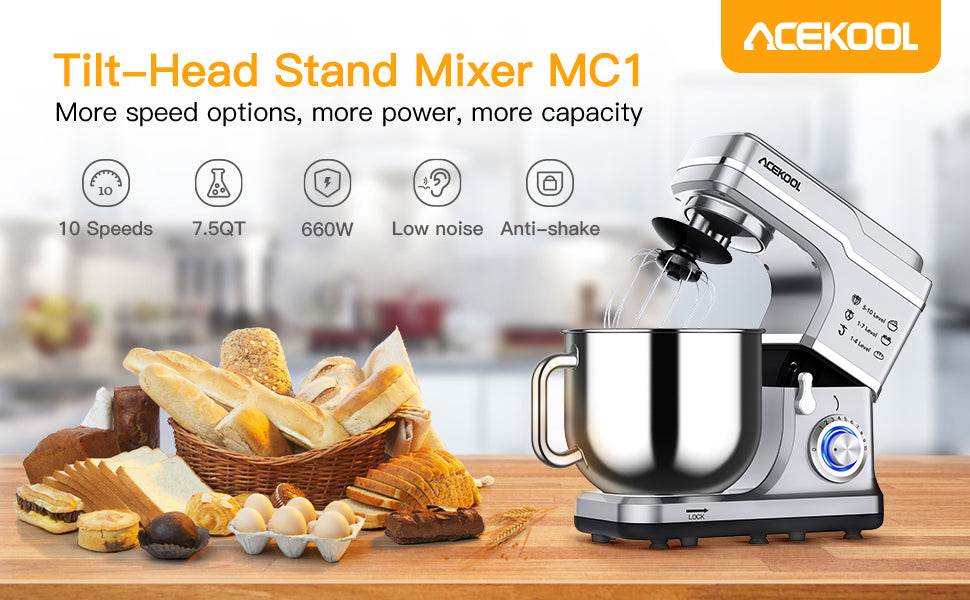 1400W/660W high-performance pure copper motor
7.5Quart/7L larger stainless steel bowl with one handle
Vibration absorption design, no displacement during operation
6 strong suction cups for more steady
Blue LED light as a power indicator