Easy Baking Recipes for Choco Chip Cookies

Baking cookies is just another way of turning a disastrous day into a cheerful one. So, newbies, if you are having a rough or a lazy day and need a boxful of munchies, you know what to do. After all what could be better than a plateful of Choco-chip cookies!
Moist chocolate, buttery dough, and a chewy texture - undoubtedly Choco-chip cookies are the best all-time dessert. Plus, baking these is extremely easy and you get a dozen in no-time. Well, you can prepare its dough either manually or by using a stand mixer. We suggest using a mixer because it saves you a lot of time.
To start with the necessary ingredients, you would need flour, cocoa powder, brown/white sugar, melted butter, eggs, baking soda, vanilla extract, and salt. And, of course, loads of Chocolate chips.  Making Choco-chip cookies doesn't require a pool of ingredients. However, it's open to experimentation such as you can add orange zest, nuts, coconut shredding, oatmeal, white chocolate chips, and so on.
Begin the process by mixing butter, sugar, vanilla extract, and eggs in a bowl, beat until you get a creamy consistency. In another bowl, mix flour, baking soda, salt (just a pinch), and cocoa powder, then pour all in the creamy mixture and add Choco-chips. Mix all and once your dough is ready, form small-flattened rolls of cookies on a butter-greased baking pan. Now place it in your pre-heated oven for 15 to 30 minutes or until the edges turn golden brown while the top appears soft and undercooked.
As your timer rings, grab your baking gloves and get your cookie tray out and let it cool. Once the batch cools down, you can munch on the yummy Choco-Chip Cookies you've baked.
Also, if you want to add some healthy, nutritious touch to it, just try making oatmeal or banana Choco-chip cookies. Not to mention, those are the yummiest!
which kitchen aid stand mixer is best?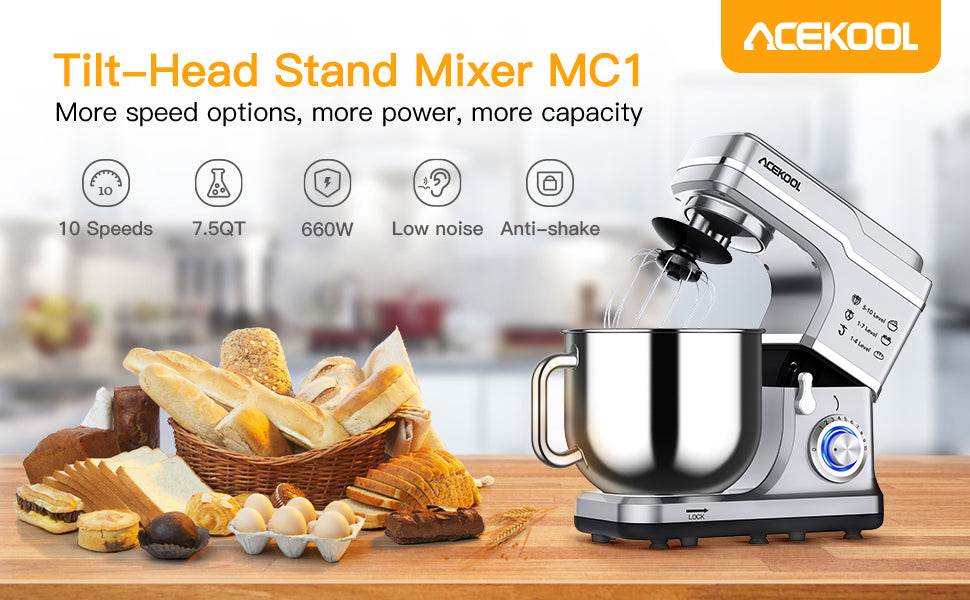 1400W/660W high-performance pure copper motor
7.5Quart/7L larger stainless steel bowl with one handle
Vibration absorption design, no displacement during operation
6 strong suction cups for more steady
Blue LED light as a power indicator