Easy Baking Recipes for Banana Bread

There's nothing more satisfying than a scrumptious breakfast to start your day with. And, what could be more healthy and delicious than banana bread? The best part, it's one of the easiest things to bake.
However, baking requires a lot of mixing of dry and wet ingredients together and ensuring the batter is of the right consistency. Well, this process can be a little tiring if done manually. So, this is where we suggest you use a stand mixer. This way your work's done faster and easier, whether you're mixing dough or batter.
For this super easy recipe, you would need 2-5 ripe bananas, flour, cinnamon sugar, melted butter, and baking powder. You can also add vanilla extract, eggs, and dry nuts to add more flavors.
You can start by mashing the bananas to get a pasty consistency and pour it into the mixer bowl. Pour the other ingredients too. If you're using a stand mixer, then set it with a dough hook at a low speed, and in a few minutes, your banana bread dough is all set for the oven. An hour of waiting and your healthy yet luscious banana bread is ready.
Enjoy your banana bread with a dollop of whipped cream and a healthy Blueberry Smoothie! Super easy, a generous treat to your taste buds and the kids will love it too!
which kitchen aid stand mixer is best?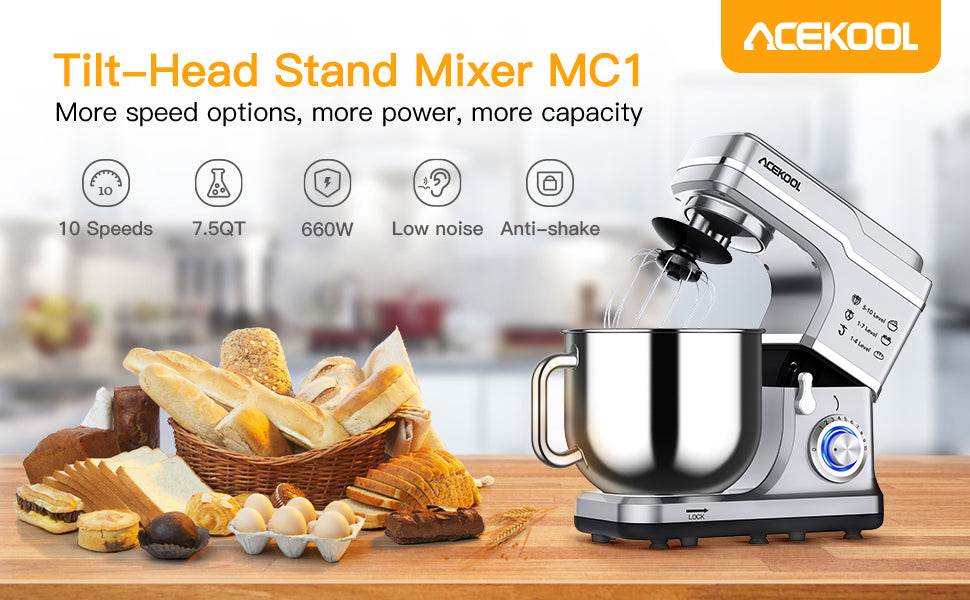 1400W/660W high-performance pure copper motor
7.5Quart/7L larger stainless steel bowl with one handle
Vibration absorption design, no displacement during operation
6 strong suction cups for more steady
Blue LED light as a power indicator