Description
Convenient LED Display
The LED display allows you to know the remaining battery capacity, mode, working time, water tank state, fault prompt, water shortage prompt, cleaning prompt, etc.


All-in-one Vacuum Cleaner
Vacuum, wash and mop at the same time in one easy step, no water stains left. First choice for pet families, saving 50% housework time! Powerful suction for multi-surfaces.



Separate Two-tank Design
Keep clean water and dirty water separated. Simple to take apart and assemble. 2Pcs washable HEPA filters, no need to buy replacement.

Lightweight and No Cord
This wet and dry vacuum cleaner is very light and portable, can be easily lifted and stored in the corner without worrying about being too bulky.


Two Charge Methods
Up to 30mins working time with 25V/2600mAH lithium-ion battery. Our vacuum mop provides 2 charging choices: charge the whole device on the charging station or plug the AC adapter directly into battery.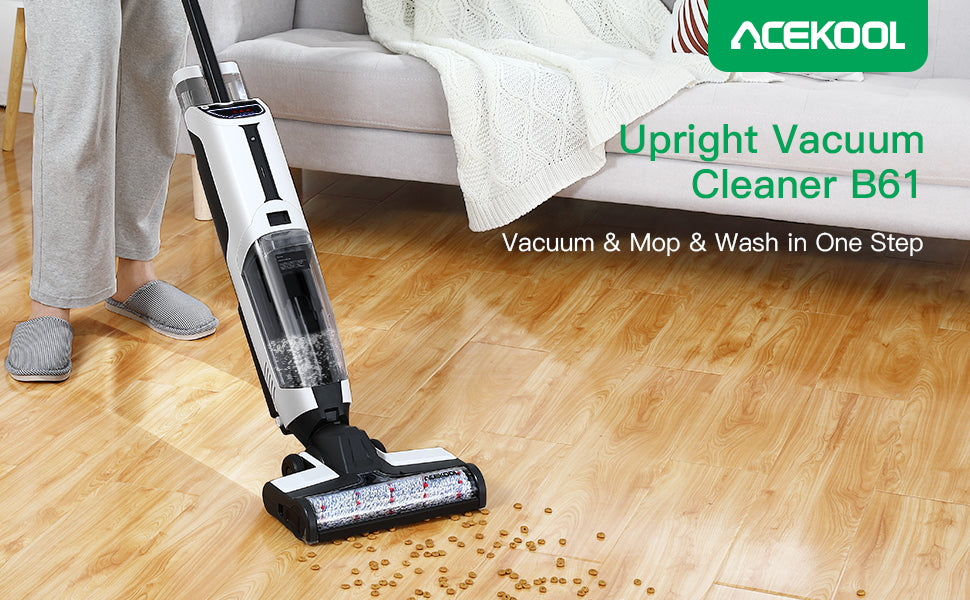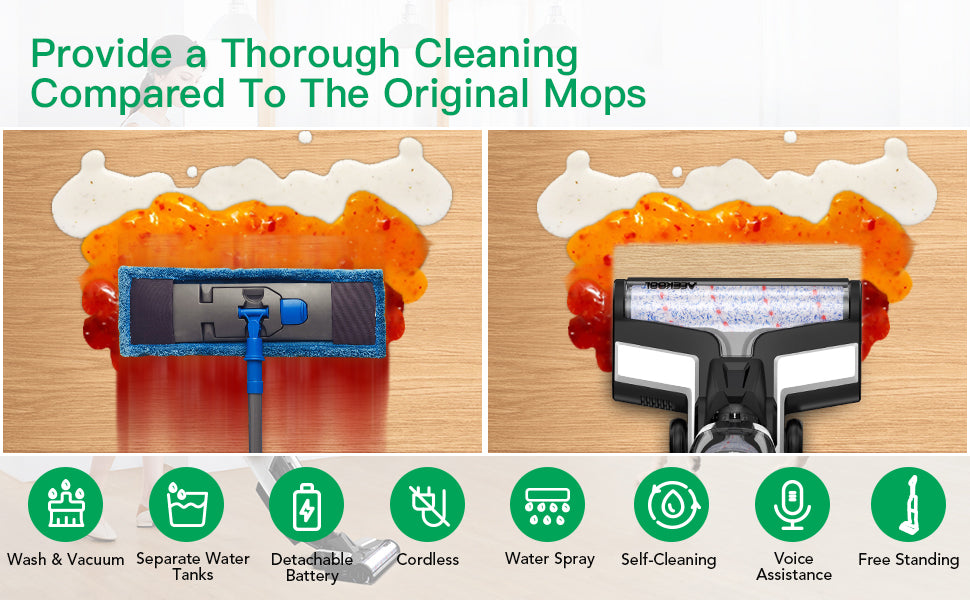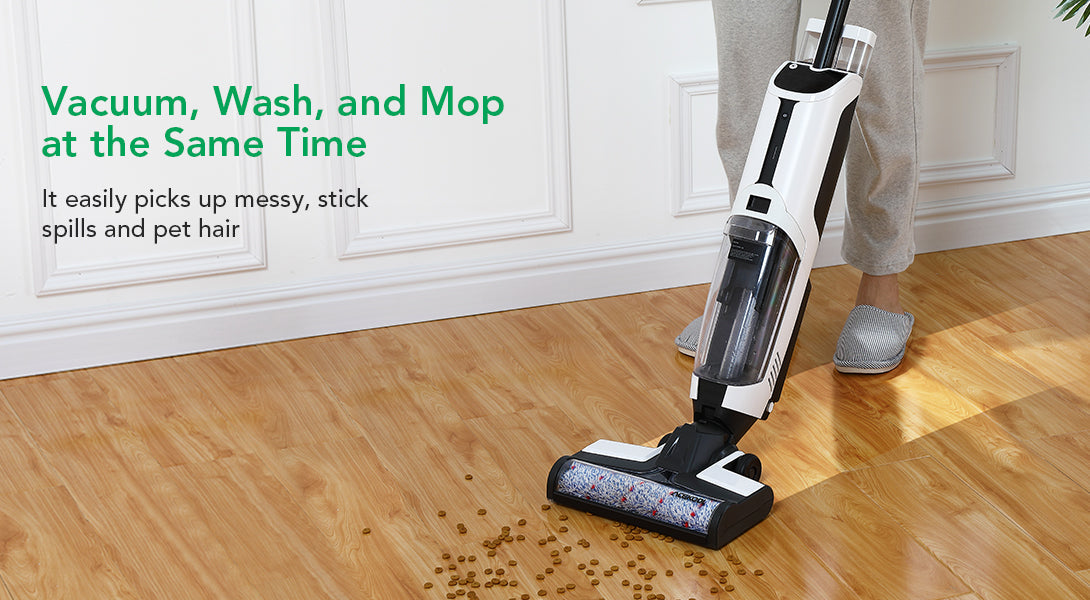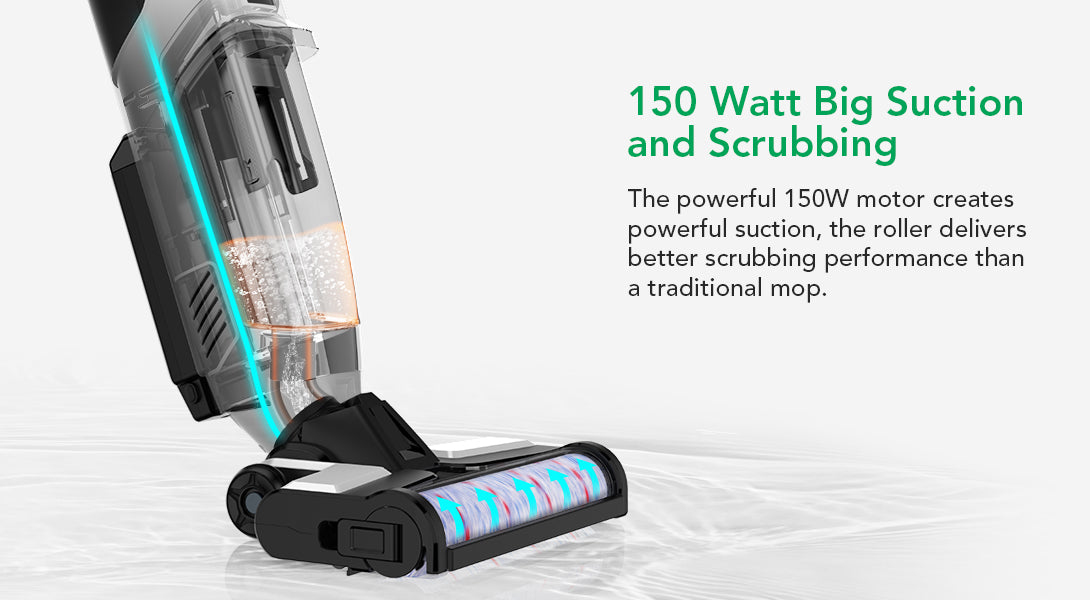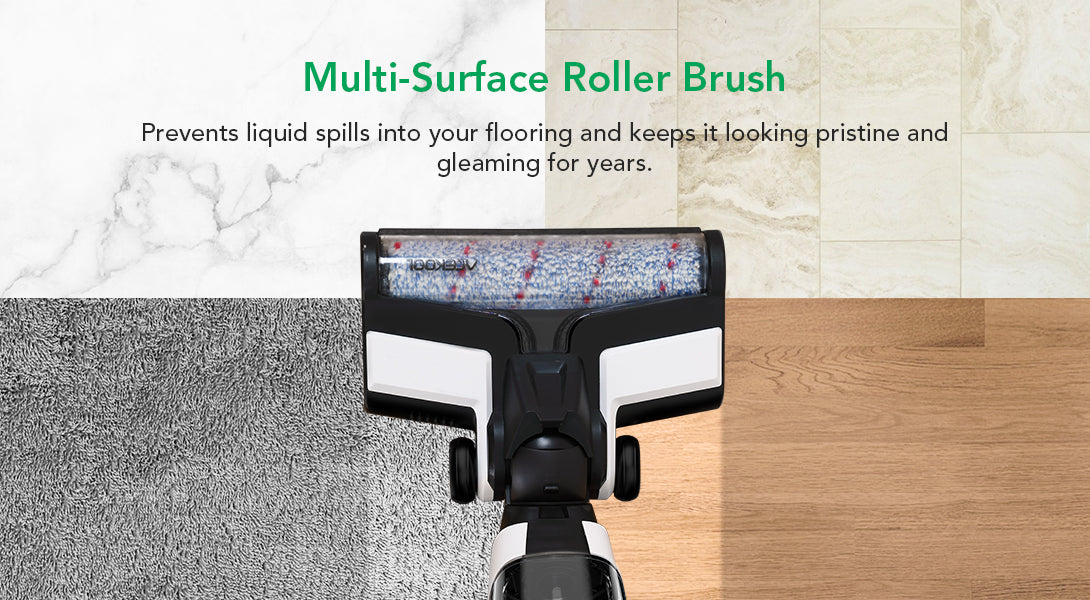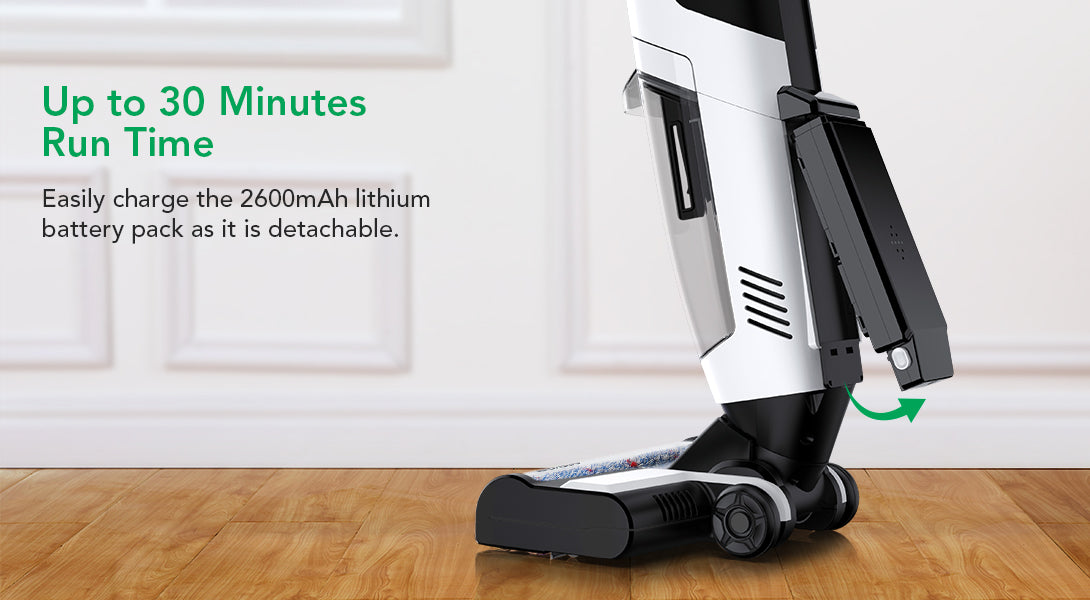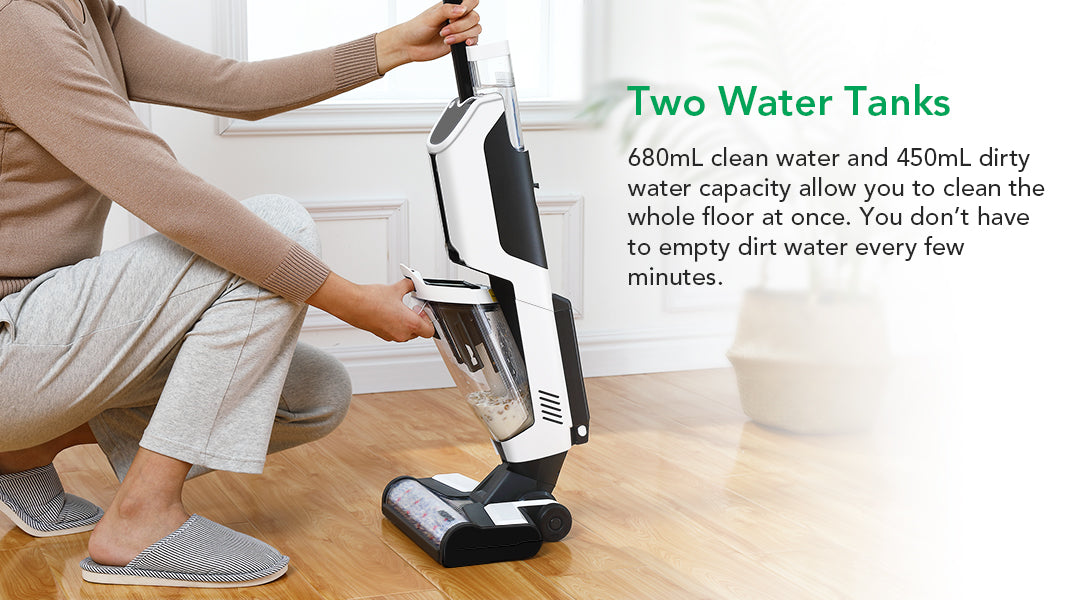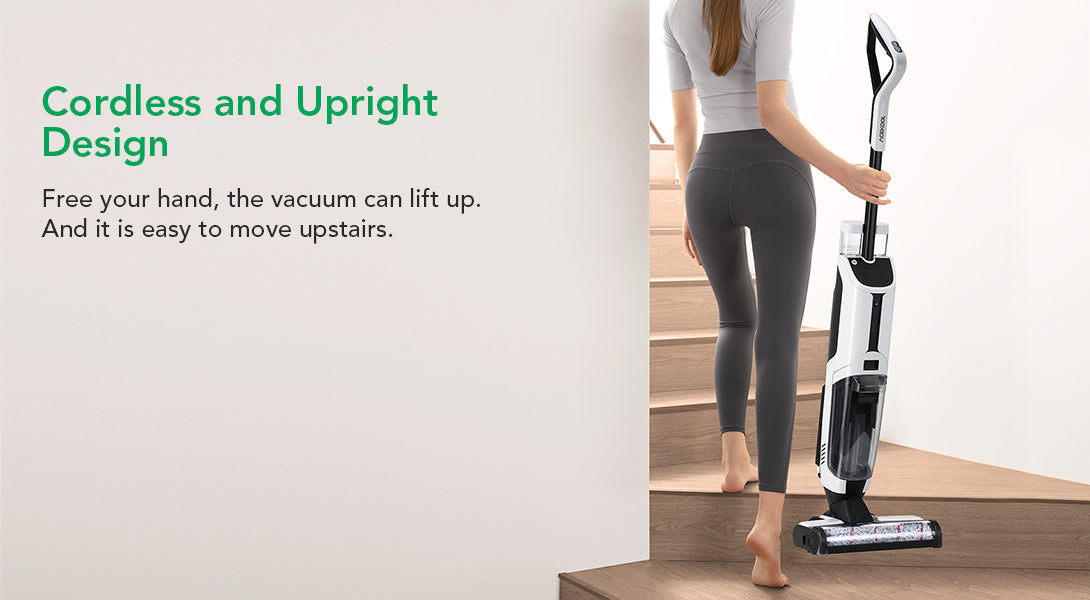 Specifications:
| | |
| --- | --- |
| Brand | ACEKOOL |
| Model Number | VU1 |
| Working Time | 30 min |
| Charging Time | 4 h |
| Water Tank Capacity | 680 mL |
| Dirty Water Tank Capacity | 450 mL |
| Material | ABS, Aluminum Alloy |
| Adapter Voltage | (100 to 240) V, 60 Hz |
| Output Voltage | 30 V, 0.8 A |
| Power | 150 W |
| Battery Type | Li-ion Battery |
| Battery Capacity | 2600 mAh |
| Battery Voltage | 25.2 V |
| Net Weight | 4.3 kg / 9.5 lb |
| Dimensions | (L11.4 x W9.8 x H45.3) in |
| Package Contents | 1 x Handle, 1 x Main Body, 1 x Li-ion Battery Pack, 1 x Roller Brush, 1 x HEPA Filter, 1 x HEPA Hard Brush, 1 x Cleaning Tool, 1 x Drying Tray, 1 x Charging Station, 1 x Adapter, 1 x User Manual |
Brands Authorization
Brands Authorization on GaoMon
Since its start in 2010, As a e-commerce platform, GaoMon provides online sales channels for excellent brands procucts for promotion and online sale.
All the products sold on GaoMon website, the suppliers must provide brand authorization to GaoMon before they can officially sell their products on the GaoMon platform. Also we will carry out strict selection and assessment of all brands.

Gaomon has been committed to provide quality household products more accessible to families. We provide affordable, full-featured products, and want to be an online store for one-stop shopping, to help you furnish and organize your home while making your life easier and more comfortable.
List of authorized brands:
Warranty Policy
Warranty Policy
Gaomon guarantees all products bought from Gaomon with a 2 Months to 15 Months warranty against defects in quality ( include extra warranty longest to 3 Months ). Different suppliers and different brands of products have different warranty times, please consult our customer service.
Brands
Warranty
Extra Warranty & How to do?
ACEKOOL
1 Year
3 Months
Follow any 2 social medium of GaoMon, and Share/post your products photoes/videos add our link on any one of your medium: Facebook, Twitter, Instagram, Youtube, Tiktok or Pinterest, Vimeo. (When you finish the operation, please send a screenshot to contact our customer service to register you in our system. After the customer service confirms, the warranty extension will take effect after registration. Please do not delete or unfollow, we will check when quality problems occur and the warranty period needs to be extended, thanks)
IDEALHOUSE

1 Year

30 Ddays
TOWALLMARK
6 Months
30 Ddays
RCTOWN
6 Months
30 Ddays
HOSSLLY
3 Months
30 Ddays
LITAKE
3 Months
30 Ddays
CAROMIO
3 Months
30 Ddays
THINKMAX
3 Months
30 Ddays
ASYPETS
3 Months
30 Ddays
CIBEAT
3 Months
30 Ddays
ALICIAN
60 Days
/
AMYOVE
60 Days
/
BEESCLOVER
60 Days
/
COSVALVE
60 Days
/
CUSIMAX
60 Days
/
ZOKOP
60 Days
/
DAFINO
60 Days
/
DISHYKOOKER
60 Days
/
DSSTYLES
60 Days
/
THBOXES
60 Days
/
GEEK CHEF
60 Days
/
RAINBEAN
60 Days
/
REDCOLOURFUL
60 Days
/
RONSHIN
60 Days
/
SHININGLOVE
60 Days
/
ELEGANTSTUNNING
60 Days
/
WEESTA
60 Days
/
YIWA
60 Days
/
Introduction
This article is about the warranty on products you buy from gaomon.com .
All goods dispatched from Gaomon are checked for quality, including checks of the appearance of the goods, the function of the hardware and software, the packaging, and inclusion of applicable accessories and power adapters.
Gaomon undertakes to communicate openly, promptly, and carefully with all customers in relation to issues with received goods.
If you are a customer with goods which appear to have a problem, please talk to us before initiating complaints with PayPal or your credit card provider. Usually there is a way for us to resolve your issue quickly and make you satisfied!
What Does Gaomon's Warranty Imply?
As a e-commerce platform, Gaomon can only offer problem-solving for faulty products which either shipped in an unsatisfactory condition, or developed internal faults naturally during usage without issues of physical damage or unsupported usage. In other words, if the product is broken you can contact us then we will contact the suppliers for you, the suppliers will deal it maybe send it back for a repair or refund.
Warranty Does Not Include:
The warranty does not include any kind of:
- Technical and/or physical support on product installation and usability
- Advice about product's configuration (or any software issues if applicable)
- Software/OS updating or firmware flashing as it would void Gaomon's warranty, if applicable
- Product issue diagnostic and troubleshooting, in case of issues caused by mishandling
Warranty by Default Covers Repair if it is a possibility
The Gaomon warranty means the suppliers will repair your faulty item for free and send it back to you for free. Other compensation is not normally available if the product can be repaired promptly.
If an item is impossible to repair to a good working condition, or would take too long to do so, the suppliers will next offer you an equivalent product or payment refund.
Decision on repair attempt or direct refund of payment will be made exclusively by the Gaomon Ltd.
When does the Warranty start from?
The warranty period begins from the receipt of the goods by the initial consignee. In the case of resellers, this is when the vendor receives the goods from Gaomon. The period is exactly 60 days from that time. For example, a product on the last day of 6th month is covered, but a product day after that day is no longer covered.
In the case of delivery methods or destinations which lack a confirmed delivery tracking date, we will take the assumption that the warranty period starts 30 days after we sent out your order.
Exceptions to Warranty
We do not offer warranty or support for products not bought from Gaomon.
The user voids the warranty if s/he opens the body in an attempt to fix, flashes the firmware of a device, or otherwise uses the device in a way that is not considered normal usage.
The warranty does not extend to free repair / replacement in cases to damage to products, accidental breakage, misuse, or wear and tear. Signs of physical damage may cause us to refuse to provide free repair.
Accessories are not covered the same warranty that applies to the main product (for more details check with our customer support).
Lamps have a special condition applied due to the fact that lifetime depends on hours of use.
RC Toys are not covered for your breakage and internal rechargeable batteries are not covered by the general warranty (for more details check with our customer support).
In what situations are returns/compensation NOT approved by Gaomon?
Below are instances where a customer will not be eligible for returns and/or compensation:
- Unapproved returns or returned products not processed through Gaomon's RMA procedure;
- Products whose warranty period has expired;
- Received returned products that are damaged because of inadequate return packaging;
- Products that were originally approved for return through our RMA procedure but have been confirmed by our QC engineers to be not broken and actually well-functioning after testing, shall not be returned to the buyer, unless the buyer pays return shipping;
- Physically damaged or broken products caused by misuse or mishandling, subjects to manufacture technical test result;
- Returns of your unwanted, unsold yet functional products;
- Products bought by mistake.
The customer is solely responsible for choosing the right product, according to their needs and requires. We will send you exactly what you order, so please read descriptions carefully before purchasing.
If the consignee of a delivery refuses or fails to accept delivery for any reason, including refusal to comply with customs clearance/costs or simply having an incorrect address, Gaomon accepts no liability and the customer will not be eligible for compensation.
Very helpful!
No matter how well I would dust-vacuum our wooden floors there was always that line of debris when mopping-swiffering etc afterwards. This has easily cut the cleaning of our floors in half, more like 70% honestly. It practically moves itself with just a little push. Always using clean water so you're not using the dirty water to clean your floors. It's not the best at getting close to the floorboards or corners of the room but the little extra time I take to clean those manually is nothing compared to the overall saving of time. The self-cleaning mode is also incredible. Run, do not walk to purchase this product. Especially if you have wood flooring.
Good quality product!
I have 3 dogs, 3 kids and lots of hardwood floors. I can't get over how well the TINECO cleans the floors & vacuums all the dog hair up. It does not leave my walnut floors overly wet and it really sucks up the dirt (see my picture). It is super easy to clean and a full charge will cover all my hard surface areas. I am so happy I spent the money on this. It has made mopping - vacuuming so much easier and less time consuming.
Exactly what I needed!
You know you're an adult when you get excited about getting a vacuum in the mail! I spent weeks online trying to find one that would be perfect for my floors. I live in a house built in the 1940's and the hardwood is the original flooring without any sealant on it. So, I was hesitant about buying a wet-dry vacuum for this reason. I took the plunge and bought this one and I am so glad I did! To test it I only did a small patch on my floor. Oh my gosh!!!! I don't think those floors have ever been clean before I moved in! I had a Swif**r but I didn't feel it was actually cleaning. Now I know it wasn't because that small patch I went over looks like a different floor!! I am waiting until those little parasites that live with me go away for the summer. Then, it is just me and my vacuum making the living room a better place. A little music and some wine...then hello clean floors! Well worth the price!
Amazing!!
I've used this vacuum cleaner for over 2 weeks. The suction power is strong enough to clean the small pieces on the floor. The floor is a little bit damp after using the cleaner but it will dry in 1 to 2 minutes. It doesn't leave streaks and also removes the stains on the floor pretty easy. The vacuum cleaner is light weight and one good thing is that it moves forward so it will save you some energy. The battery can last about 30 minutes and you might need to empty the dirty water tank once in the middle. It will also remind you to run the self cleaning function after each use to keep it clean. Very easy to install and remove the water tanks and the roller. It's smaller than what I thought so it doesn't take a lot of space. Overall I'm satisfied with my purchase and it saves a lot of work on cleaning the hard floor.
No complaints.
It did a great job. Especially for the family who has kid. It can clean up all the messy on the floor no matter dry or wet. 100% recommended.