Description
Overview: CIBEAT Dish Drying Rack, Stainless Steel Dish Rack Drainers for Kitchen Counter with 360¡ã Swivel Spout and Drainboard, Fingerprint-Proof Dish Drainers with Utensil Holder, Kitchen Sink Organizer.GARVEE stainless steel dish drying rack is made of premium 304 stainless steel, which made this dish drainer rustproof,easy to clean and anti -fingerprints. It's sturdy and durable enough to last years. It's clean, streamlined and modular, also matches with all the other stainless steel appliances in the kitchen.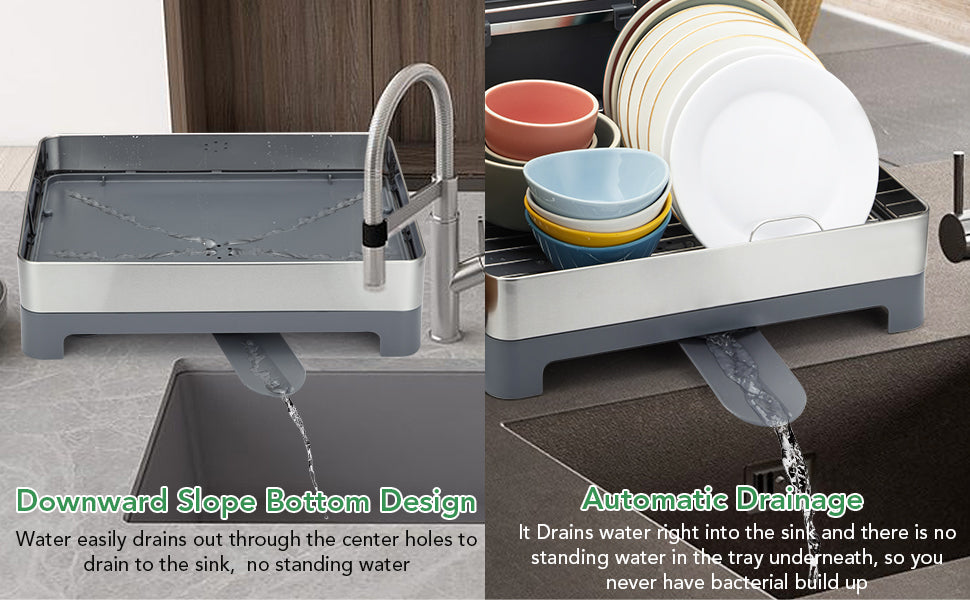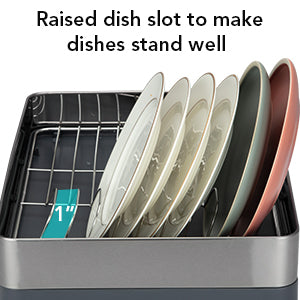 One inch raised dish slot
One Inch Raised Dish Slot make dishes tand well and easy to drain.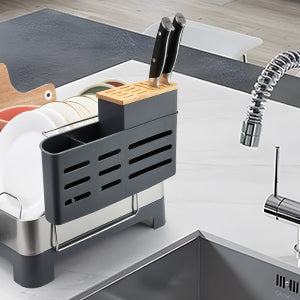 Utensil Holder with Bamboo Block
The utensil holder that also has a bamboo block with different size slits to hold knives in a safe position so you don't accidentally cut yourself grabbing the silverware to put away.The 3-department of utensil holder can hold multiple flatware in place.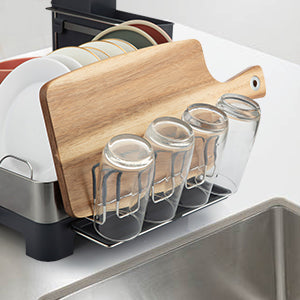 Dettachable cup holder and cutting board rack
The dettachable cup holder rack could hold 4 cups and a cutting board. You can place the dettachable rack in any of the four sides.

Product Features:
Large Capacity for Storage
This dish drainer features a large capacity of 22.5*12.5*11 inch. Raised dish slot design to make dishes stand well. It is able to hold 10 plates upright, 5 bowls. The utensil holder can hold more than 20 pieces of flatware. The dettachable cup holder rack could hold 4 cups and a cutting board.
Automatic Drainage
It's a dish drying rack with drainboard. The bottom of drainboard is designed with a slight downward slope so the water drains out through the center holes, then automatically drains into the sink through the swivel spout that is installed under the central hole, no standing water worried. The coneection joint of center holes and swivel spout is anti-leak.
360° Rotatable Swivel Spout
The drainage spout of the dish rack under the drainboard is 360 degrees rotatable and extendable. You can easily extend the spout to reach the edge of sink. The swivel spout can be set in 4 directions to fit your counter space, even for those kitchen counter of irregular design.
Specifications£º
| | |
| --- | --- |
| Product Dimensions | 22.5 x 12.5 x 10 inches |
| Item Weight | 4 pounds/1.81kg |
| Manufacturer | CIBEAT |
| Package Contents | Drain tray base*1, bowl line*1, knife and fork bucket*1, cup holder*1, water tray*1 |


Brands Authorization
Brands Authorization on GaoMon
Since its start in 2010, As a e-commerce platform, GaoMon provides online sales channels for excellent brands procucts for promotion and online sale.
All the products sold on GaoMon website, the suppliers must provide brand authorization to GaoMon before they can officially sell their products on the GaoMon platform. Also we will carry out strict selection and assessment of all brands.

Gaomon has been committed to provide quality household products more accessible to families. We provide affordable, full-featured products, and want to be an online store for one-stop shopping, to help you furnish and organize your home while making your life easier and more comfortable.
List of authorized brands:
Warranty Policy
Warranty Policy
Gaomon guarantees all products bought from Gaomon with a 2 Months to 15 Months warranty against defects in quality ( include extra warranty longest to 3 Months ). Different suppliers and different brands of products have different warranty times, please consult our customer service.
Brands
Warranty
Extra Warranty & How to do?
ACEKOOL
1 Year
3 Months
Follow any 2 social medium of GaoMon, and Share/post your products photoes/videos add our link on any one of your medium: Facebook, Twitter, Instagram, Youtube, Tiktok or Pinterest, Vimeo. (When you finish the operation, please send a screenshot to contact our customer service to register you in our system. After the customer service confirms, the warranty extension will take effect after registration. Please do not delete or unfollow, we will check when quality problems occur and the warranty period needs to be extended, thanks)
IDEALHOUSE

1 Year

30 Ddays
6 Months
30 Ddays
TOWALLMARK
6 Months
30 Ddays
RCTOWN
6 Months
30 Ddays
HOSSLLY
3 Months
30 Ddays
LITAKE
3 Months
30 Ddays
CAROMIO
3 Months
30 Ddays
THINKMAX
3 Months
30 Ddays
ASYPETS
3 Months
30 Ddays
CIBEAT
3 Months
30 Ddays
ALICIAN
60 Days
/
AMYOVE
60 Days
/
BEESCLOVER
60 Days
/
COSVALVE
60 Days
/
CUSIMAX
60 Days
/
ZOKOP
60 Days
/
DAFINO
60 Days
/
DISHYKOOKER
60 Days
/
DSSTYLES
60 Days
/
THBOXES
60 Days
/
GEEK CHEF
60 Days
/
RAINBEAN
60 Days
/
REDCOLOURFUL
60 Days
/
RONSHIN
60 Days
/
SHININGLOVE
60 Days
/
ELEGANTSTUNNING
60 Days
/
WEESTA
60 Days
/
YIWA
60 Days
/
Introduction
This article is about the warranty on products you buy from gaomon.com .
All goods dispatched from Gaomon are checked for quality, including checks of the appearance of the goods, the function of the hardware and software, the packaging, and inclusion of applicable accessories and power adapters.
Gaomon undertakes to communicate openly, promptly, and carefully with all customers in relation to issues with received goods.
If you are a customer with goods which appear to have a problem, please talk to us before initiating complaints with PayPal or your credit card provider. Usually there is a way for us to resolve your issue quickly and make you satisfied!
What Does Gaomon's Warranty Imply?
As a e-commerce platform, Gaomon can only offer problem-solving for faulty products which either shipped in an unsatisfactory condition, or developed internal faults naturally during usage without issues of physical damage or unsupported usage. In other words, if the product is broken you can contact us then we will contact the suppliers for you, the suppliers will deal it maybe send it back for a repair or refund.
Warranty Does Not Include:
The warranty does not include any kind of:
- Technical and/or physical support on product installation and usability
- Advice about product's configuration (or any software issues if applicable)
- Software/OS updating or firmware flashing as it would void Gaomon's warranty, if applicable
- Product issue diagnostic and troubleshooting, in case of issues caused by mishandling
Warranty by Default Covers Repair if it is a possibility
The Gaomon warranty means the suppliers will repair your faulty item for free and send it back to you for free. Other compensation is not normally available if the product can be repaired promptly.
If an item is impossible to repair to a good working condition, or would take too long to do so, the suppliers will next offer you an equivalent product or payment refund.
Decision on repair attempt or direct refund of payment will be made exclusively by the Gaomon Ltd.
When does the Warranty start from?
The warranty period begins from the receipt of the goods by the initial consignee. In the case of resellers, this is when the vendor receives the goods from Gaomon. The period is exactly 60 days from that time. For example, a product on the last day of 6th month is covered, but a product day after that day is no longer covered.
In the case of delivery methods or destinations which lack a confirmed delivery tracking date, we will take the assumption that the warranty period starts 30 days after we sent out your order.
Exceptions to Warranty
We do not offer warranty or support for products not bought from Gaomon.
The user voids the warranty if s/he opens the body in an attempt to fix, flashes the firmware of a device, or otherwise uses the device in a way that is not considered normal usage.
The warranty does not extend to free repair / replacement in cases to damage to products, accidental breakage, misuse, or wear and tear. Signs of physical damage may cause us to refuse to provide free repair.
Accessories are not covered the same warranty that applies to the main product (for more details check with our customer support).
Lamps have a special condition applied due to the fact that lifetime depends on hours of use.
RC Toys are not covered for your breakage and internal rechargeable batteries are not covered by the general warranty (for more details check with our customer support).
In what situations are returns/compensation NOT approved by Gaomon?
Below are instances where a customer will not be eligible for returns and/or compensation:
- Unapproved returns or returned products not processed through Gaomon's RMA procedure;
- Products whose warranty period has expired;
- Received returned products that are damaged because of inadequate return packaging;
- Products that were originally approved for return through our RMA procedure but have been confirmed by our QC engineers to be not broken and actually well-functioning after testing, shall not be returned to the buyer, unless the buyer pays return shipping;
- Physically damaged or broken products caused by misuse or mishandling, subjects to manufacture technical test result;
- Returns of your unwanted, unsold yet functional products;
- Products bought by mistake.
The customer is solely responsible for choosing the right product, according to their needs and requires. We will send you exactly what you order, so please read descriptions carefully before purchasing.
If the consignee of a delivery refuses or fails to accept delivery for any reason, including refusal to comply with customs clearance/costs or simply having an incorrect address, Gaomon accepts no liability and the customer will not be eligible for compensation.
Amazing for the price!
I got this at a discount and this dish rack is amazing! It is super easy to put together, it has so many different compartments and places to properly put away dishes and silverware. It also has a dedicated spot for sharp knives that holds them securely so if you have kids this is amazing because it cannot be easily knocked out of the dish rack. I almost cut myself from knocking over a knife out of my old cheap dish rack, and with this one, it is almost impossible unless you knock the entire dish rack off the counter. This dish rack also has a tray that goes under it to catch water dripping and it has a ramp that allows the water to runoff back into the sink. Overall, this dish rack is amazing for the price and will last you a while.
Dish strainer
I do like it it's cute for a dish strainer. It's versatile. You can move it around and make it wider. If you like with the silverware holder it was a little bit bigger than I expected in a little bit more than I wanted but I liked it so much I decided to keep it.
Sturdy
The exterior and holding rack are strong. Great for heavy pots and pans as well as dishes. The dishes stay in place. My dishes are managed by the dishwasher but oversized bowls, cake pans, kettles and special cutlery are hand washed and placed into the rack with ease. The slots for the knifes, loops for cups and sponges all drain into the central, very adjustable drain tube. The drain tube allows you to place the drying rack in any direction that you need. This is extremely helpful. No tools were required to assemble.
Dish rack
I love this dish rack it's so easy to assemble plus it takes very small space if you have less soace in your kitchen. Material is good specially the chrome steel base. 100% recommendations on buying this product.
Good
I havent taken a photo yet as my kitchen is still be completed, this drainer is perfect in every way.
Drains straight into the sink - as it has a funnel underneath (so no stale water build up on your drainer.
Slots for your sharp knifes.
Holds Chopping boards.
Holds champagne/martini glasses - on the hook rack ( removable if not required for everyday).
Holds your mugs upside down - rubber prongs.
Its very well though out and can not fault it - sits well on my new sink and protects it.